BME Launches Digital Proxy Voting Service for Shareholders' Meetings in Collaboration with Proxymity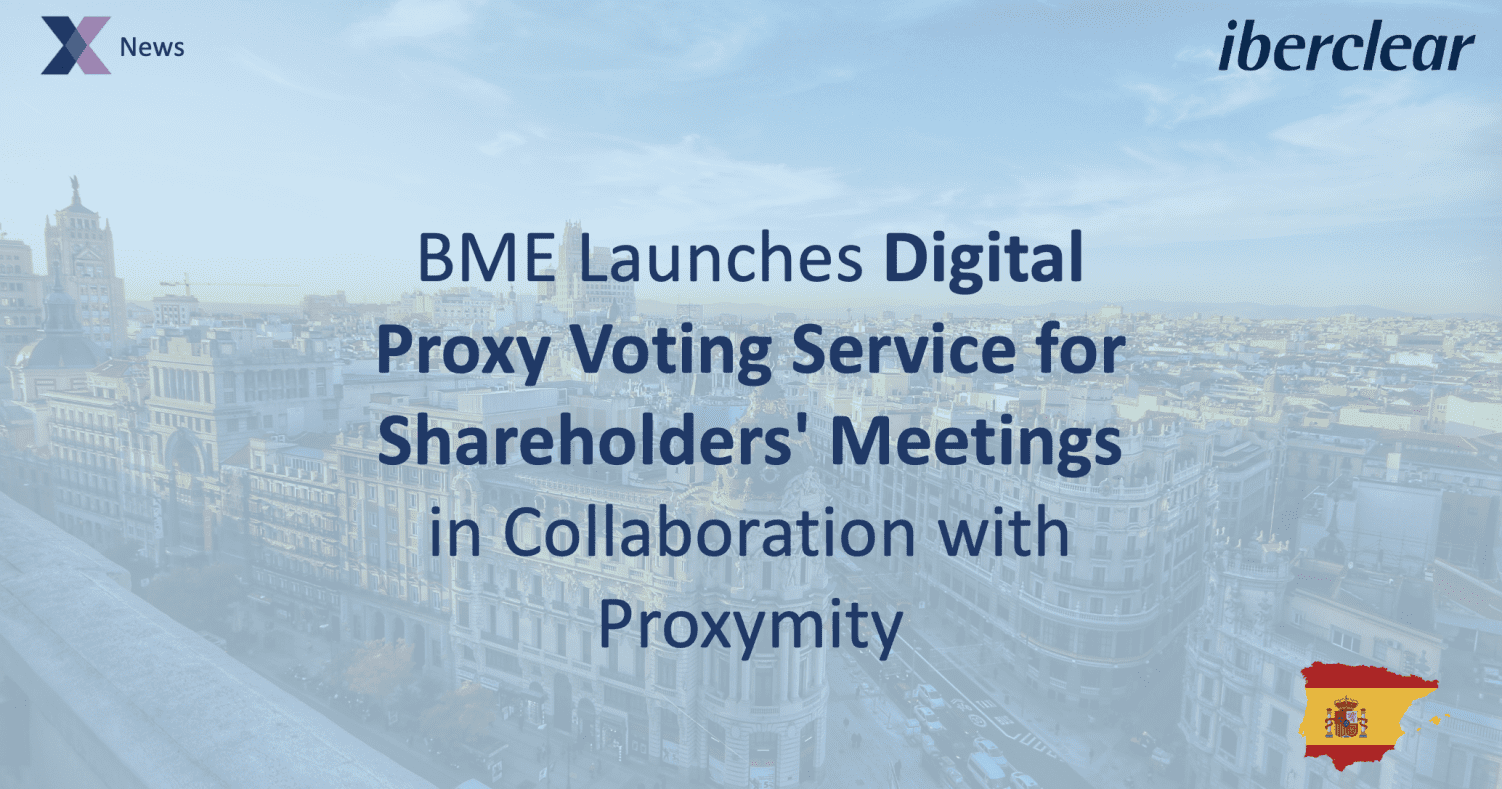 – Digital investor communications platform makes it easier for firms to comply with the Shareholders' Rights Directive, already transposed into the Spanish Companies Act.
– The combination of efficiency improvements gives a benefit of up to 6 days on average when compared to current operations.
BME, through Iberclear, its central securities depository, is finalising the launch of a new digital proxy voting service for shareholders' meetings. The service is powered by Proxymity's digital investor communications platform and is a sustainable solution that connects Participant Entities and Issuers in a centralised way to speed up and promote the efficiency of the voting process at shareholders' meetings.
This service will allow the management of shareholders' meetings that take place on domestic securities, Cross Border Services (CBS) securities and foreign securities not held by Iberclear.
The solution is implemented through a technical platform that complies with all the security and data protection requirements established under SRDII, in order to guarantee the confidentiality and protection of the information stored in the systems. Through this platform, the management by Issuers and Participants of the complete process of the meetings is facilitated, from the announcement of the meeting to the vote confirmation, through vote processing and accounting.
The service is offered in collaboration with Proxymity, an innovative investor communications platform that connects Issuers, Intermediaries, and Investors via their proprietary digital network. The partnership with BME and Proxymity means that investors will receive "golden source" meeting announcements direct from issuers in real time and be able to vote right through to the market deadline. This combination of efficiency improvements alone gives a benefit of up to 6 days on average when compared to the current through the creation of efficient and transparent solutions.
With the launch of this new service, which will go live on Q1 2022, Iberclear helps its Participant Entities and Issuers to comply with Directive (EU) 2017/828 (SRD II)", and the Law 5/2021 pertaining to the exercise of shareholders′ political rights.
For Jesús Benito, CEO of Iberclear, "this solution has been developed in response to the demands from our issuers and participants to have a neutral, efficient and environmentally responsible solution that, building on technology and the experience of our technological partner Proxymity, will allow Participant Entities and Issuers to become connected to manage digitally the voting processes at shareholders' meetings".
Jon Smalley, COO at Proxymity added, "We're delighted to work with BME and Iberclear on this important initiative. The deployment of Proxymity's platform not only brings SRD II Compliance, but also real and immediate benefits for the Spanish investor ecosystem."