Proxymity Named Fintech of the Year 2023 at the Leaders in Custody Asia Awards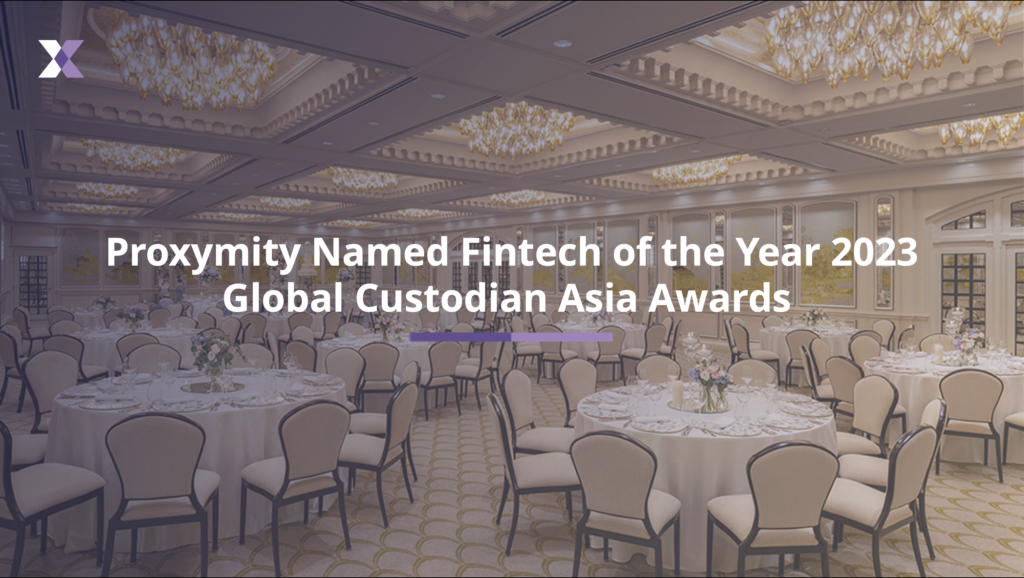 We are thrilled to announce that Proxymity has been honoured with the prestigious Editors Choice for Fintech of the Year 2023 award at the Leaders in Custody Asia Awards by Global Custodian.
The ceremony, held at the famous Raffles Hotel in Singapore, recognised Proxymity's exceptional contributions to the fintech industry and its commitment to revolutionising investor communication and proxy voting processes. Product Manager Nigel Little proudly accepted the award on behalf of the Proxymity team.
Nigel Little, expressed his gratitude on behalf of the team at Proxymity, saying, "We are immensely proud to receive this recognition from Global Custodian. It validates our dedication to driving innovation and simplifying investor communication for market participants. This award motivates us to continue pushing boundaries and delivering transformative solutions that empower investors and enhance corporate governance."
Having won the Leaders in Custody Awards in London for Innovation in Shareholder Disclosure, only a few weeks ago, the Editors Choice for Fintech of the Year award is a further testament to Proxymity's relentless pursuit of excellence and its commitment to solving the challenges faced by shareholders, issuers, and intermediaries. Through our cutting-edge platform, we have successfully streamlined and digitised proxy voting and shareholder disclosure processes, enabling greater transparency, efficiency, and shareholder engagement.
Proxymity's innovative approach revolutionises the way investors exercise their voting rights, ensuring their voices are heard on critical corporate matters. By leveraging advanced technology and industry best practices, we provide a centralised and secure platform that eliminates the complexities of the current process in the ecosystem, simplifies manual processes, and enhances corporate governance practices.
As we celebrate this remarkable achievement, we extend our heartfelt gratitude to our clients, partners, and the entire Proxymity team. Their unwavering support and dedication have been instrumental in our success. We remain committed to pushing the boundaries of what is possible in investor communications, continuing to deliver innovative solutions that empower investors and drive positive change in the industry.
To learn more about our innovative solutions, start a conversation with our experts today. Talk to us