Views
Celebrating Digital Disruption in Investor Communications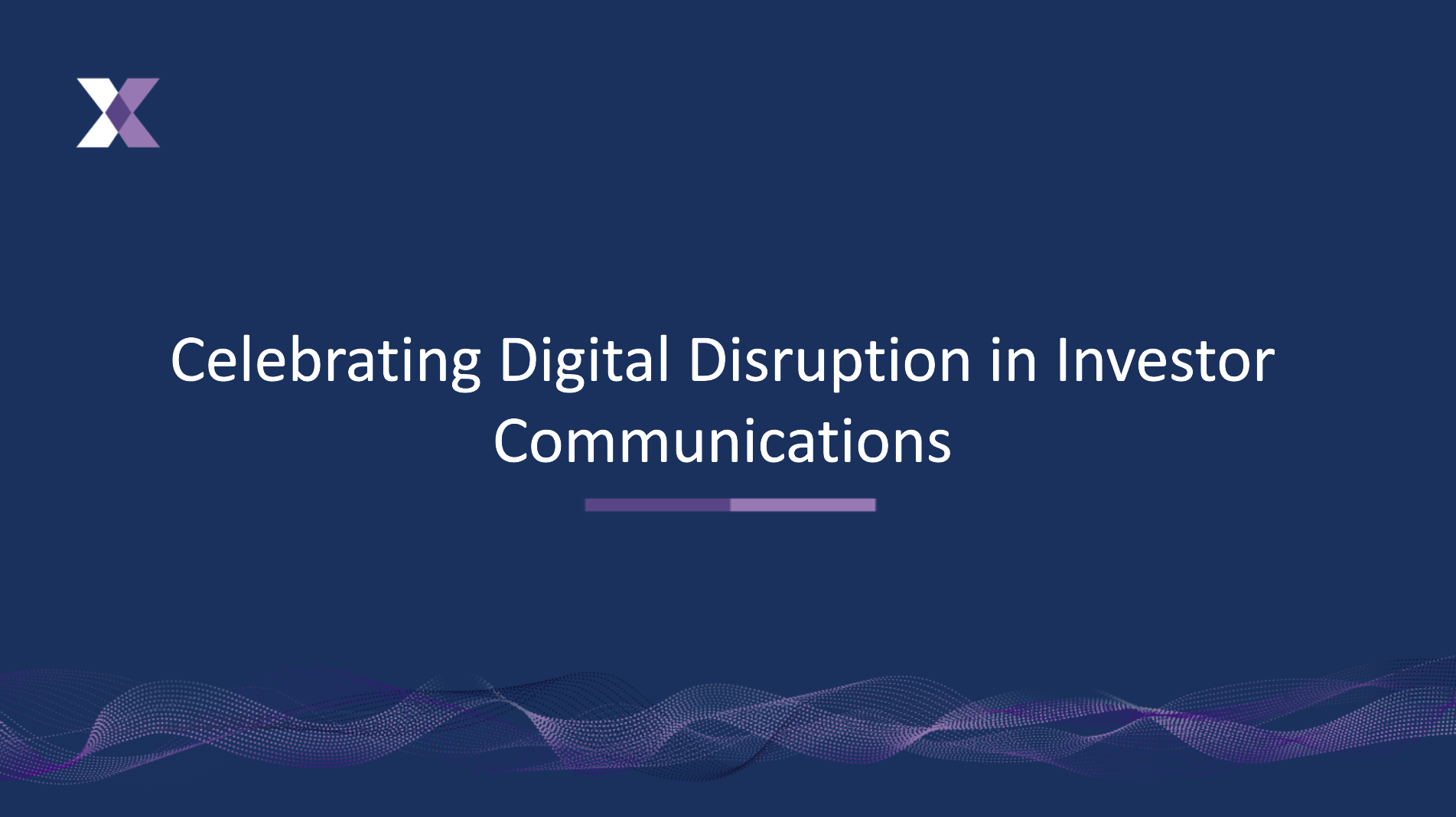 Happy birthday to us! Two years ago in April 2020 we announced that, after having secured a first round of strategic investment, we had spun out from Citi's D10X incubator programme and created Proxymity Ltd supported by a global, industry-led consortium, raising over $20 m in funding.
Two years on, we are so incredibly proud of everything the team has achieved in such a short space of time.
In this article we take a look back at some of our key milestones.
In the beginning
Although we live in the digital age, not all financial sectors have fully embraced the opportunities that digital connectivity brings. Innovation in investor communications has not kept pace with technological advances in areas such as banking, payments, and consumer services.
Proxymity was founded on the idea that the entire investor communications ecosystem would be enhanced by the digitisation of key processes – bringing transparency, accuracy, and real-time insights to the benefit of the whole ecosystem.
Proxymity, as an investment communications platform, set out to fundamentally transform the traditional ways that share issuers, investors, and their intermediates communicate to vote, identify, and report on their shareholdings. We achieve this by moving proxy voting, shareholder disclosure and reporting processes on to our unique digital platform.
Proxymity today – serving the whole ecosystem
Our vision is now a reality, and our work continues today. Our unique approach enabled BNP Paribas, BNY Mellon, Citi, Computershare, Deutsche Bank, Deutsche Börse | Clearstream, HSBC, J.P. Morgan, Mediant, and State Street to come together to back Proxymity as an industrywide global consortium.
Our proposition is not about disintermediation or serving only issuers or investors. In fact, we enable intermediaries, who are often tasked with costly, time-consuming, and legally binding processes, to use our digital platform to fulfil their obligations with an innovative alternative, delivering new value to their respective clients.
The speed of the platform enabled investors to gain up to six extra days for research. In addition, Proxymity also provides real-time status updates and transparency, including post-meeting vote confirmation – representing another first for this market.
Stewardship and environmental benefits
From a governance perspective, Proxymity brings several unique improvements over the existing investor communication ecosystem. Delivering real-time information means that investors and shareholders have longer to research the companies that they own shares in, before voting deadlines. This enables both improved stewardship and better governance.
In addition, using the Proxymity platform to vote increases both shareholder engagement and transparency and may eliminate the need to fly representatives to meetings, because Proxymity can provide true vote confirmation.  Alongside the environmental benefits, this facility has been particularly valuable during Covid.
As well as the opportunity to decrease travel, with Proxymity there is simply no need to print, reprint and deliver paper from the issuer through to the investor and back, thus reducing environmental impact.
Rapid growth and future developments
Since April 2020, we have grown from 20 to over 130 employees.  We have provided digital access to over 12,000 meetings in 25 markets in 2021 alone.
In October 2021, we established an APAC hub to service the first ever digital proxy voting service in New Zealand, with Citi and J.P. Morgan as the first custodians.  In March 2022, we announced our first activity in America with the USA vote confirmation trial in partnership with Computershare.
We rounded off our first two years in business with the closing of our Series B investment round at over $50m in April 2022 – with the help of our consortium of leading financial institutions including seven of the top ten global custodians, representing over $200 trillion in assets under custody.
Here's to many more birthdays!