Views
SRD II After 9 Months: Navigating the Shareholder Disclosure Landscape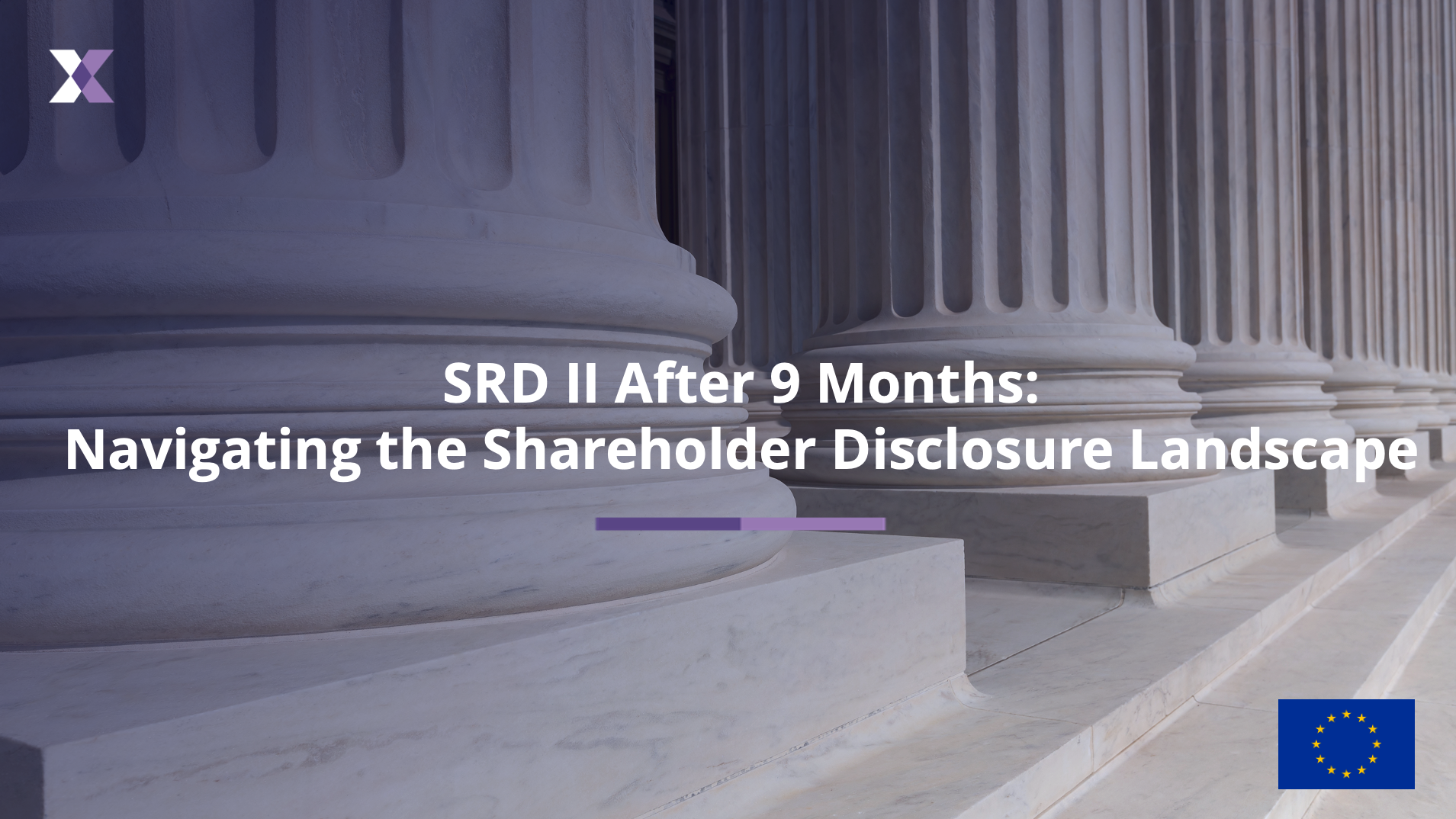 SRD II After 9 Months: Navigating the Shareholder Disclosure Landscape
In 2020, the Shareholder Rights Directive II (SRD II) was introduced across European Union member states. While implementation has presented challenges, the benefits for issuers, intermediaries and shareholders have already been apparent through the 2021 Annual General Meeting (AGM) season.
Shareholder participation has become a hot topic in recent years, as critical issues such as oversight on director's pay, environmental, social and governance (ESG) principles, and long-term investment have taken centre stage. Investors increasingly want a say in how companies they invest in are managed. At the same time, those companies want to build closer connections with their shareholders, to better understand their needs and concerns, and act accordingly.
However, for years now, one of the biggest challenges facing share issuers throughout Europe has been how to accurately identify their shareholder base. In some member states, the disclosure process for shareholders has historically been voluntary, with issuers having no legal recourse to finding out who owns them. At the same time, investor communication has grown increasingly complex and cumbersome, often due to the number of custodians a communication goes through before it eventually reaches the end investor.
The first Shareholder Rights Directive (SRD I), implemented in 2007, was a step in the right direction. Not only did it improve the transparency of shareholder information, it also gave shareholders a number of rights, including access and time to process meeting and corporate event information, as well as promoting proxy voting so investors could vote remotely, across borders and in different markets within the European Union (EU).
SRD II: setting new standards for transparency
SRD II, which took effect on 3 September 2020, not only built on SRD I's foundations, but went significantly further in terms of shareholder identification, by encouraging issuers to tackle an age-old problem with modern technology. As well as making it easier for shareholders to exercise their rights, SRD II introduced stricter rules to ensure issuers receive a timely response to disclosure requests. Intermediaries (including central securities depositories, custodians and brokers) must now respond to these requests in a machine-readable format by the next business day, with non-compliance risking potential fines or even jail time.
There has been a noticeable settling in period since SRD II was introduced, as intermediaries have adapted to the new disclosure obligations. After a slow start, we have seen many selecting their service provider or evolving their own services and IT solutions to become more compliant with the requirements, and embracing the use of machine-readable messaging in the ISO 20022 format. We expect this adoption will become even more widespread in the months ahead.
As is often the case with EU legislation, introducing a new directive is one thing, encouraging standardised adoption across 27 members of the European Economic Area is another. Once it falls on different countries to adopt the directives, inconsistences start to emerge. SRD II still leaves member states some 'wriggle room' to interpret the standards – and definitions – slightly differently. One area where this has been apparent over the last few months is with the way different member states define 'shareholder'.
Whereas some markets will define the shareholder as the end investor, in other markets the shareholder is considered to be the name on the register, which is often just the nominee account holder. Of course, the spirit of SRD II is to identify that end investor, because the issuer needs to establish a relationship – and ongoing communication – with that investor. So, in that respect, the current legislation is still falling short, and this is something that we expect will be rectified.
For more information about SRD II, download Proxymity's whitepaper or contact us to learn more about our shareholder disclosure solution, Proxymity Shareholder ID.
Investment ecosystem adapting to the new regime

Proxymity is currently active across seven European markets (Belgium, France, Netherlands, Germany, Finland, Denmark and Luxembourg, with Spain expected soon), and has been working closely with issuers and issuing agents, as well as intermediaries, to help them deal with the additional burden placed on systems and procedures by SRD II by leveraging our unique digital pathway to fully automate the process of collecting and processing disclosure responses in market-compliant formats.
Issuers have been quick to recognise the benefits of an automated service in drastically speeding up the flow of information across the whole proxy chain, from issuer to investor and back. This helps an authentic, real-time connection with the beneficial owners while in accordance with market standards. It also allows any participants in the custody chain to automatically forward shareholder disclosure requests in a compliant digital format and respond to them instantly (or within a compliant timeframe).
For issuers, the ability to automatically verify whether disclosure requests are from an authorised source can prevent unsolicited and unapproved requests from being processed entirely, avoiding wasted effort and reducing data security risks.
SRD II has already dramatically improved communication between companies, their shareholders and intermediaries – converting a by-design opaque system into one with transparency and accountability. Even so, with some countries still only getting to grips with adopting SRD II (including Spain and Greece), there's still a long way to go before we can expect widespread adoption across all 27 member states.
As of 1 June 2021, nearly 1,000 disclosures have been announced across Europe, with the most active countries being Germany and France.
2021 AGM Meeting Season Highlights and Lowlights
| Positive Trends | Negative Trends |
| --- | --- |
| + Acceleration in time taken to authenticate Disclosure Requests across Issuer CSDs and Intermediaries | – Issuer CSDs legacy technology or pricing blocking access to some markets, contributing to the increase in Direct Requests as Disclosure Agents bypass the Issuer CSD |
| + Consistent high response rates achieved (90%+) and continuously improving as more intermediaries connect | – Responses still often delayed as intermediaries contact the Issuer to validate the authenticity of the request |
| + Reduction in unsecure responses as intermediaries encouraged to only disclose via secure channels | – Some intermediaries refuse to respond to Direct Requests as they don't consider them eligible under SRD II |
| + More intermediaries in process of adopting ISO20022 disclosure solutions | – Usage of unsecure channels persists with some non ISO20022 enabled intermediaries |
What does the future look like?
Will there be an SRD III? Almost certainly. We're getting closer to having a standardised model for share ownership transparency throughout Europe, but we're not quite there yet. Until there's a standardised definition of shareholder which is the same across all EEA members, there cannot be a level playing field for identifying – and communicating with – that core investor base. After all, a company can only meet the needs of its shareholders if it can identify and understand them.
Contact us to learn more about our shareholder disclosure solution.