Views
Navigating the proxy voting season: embracing the digital age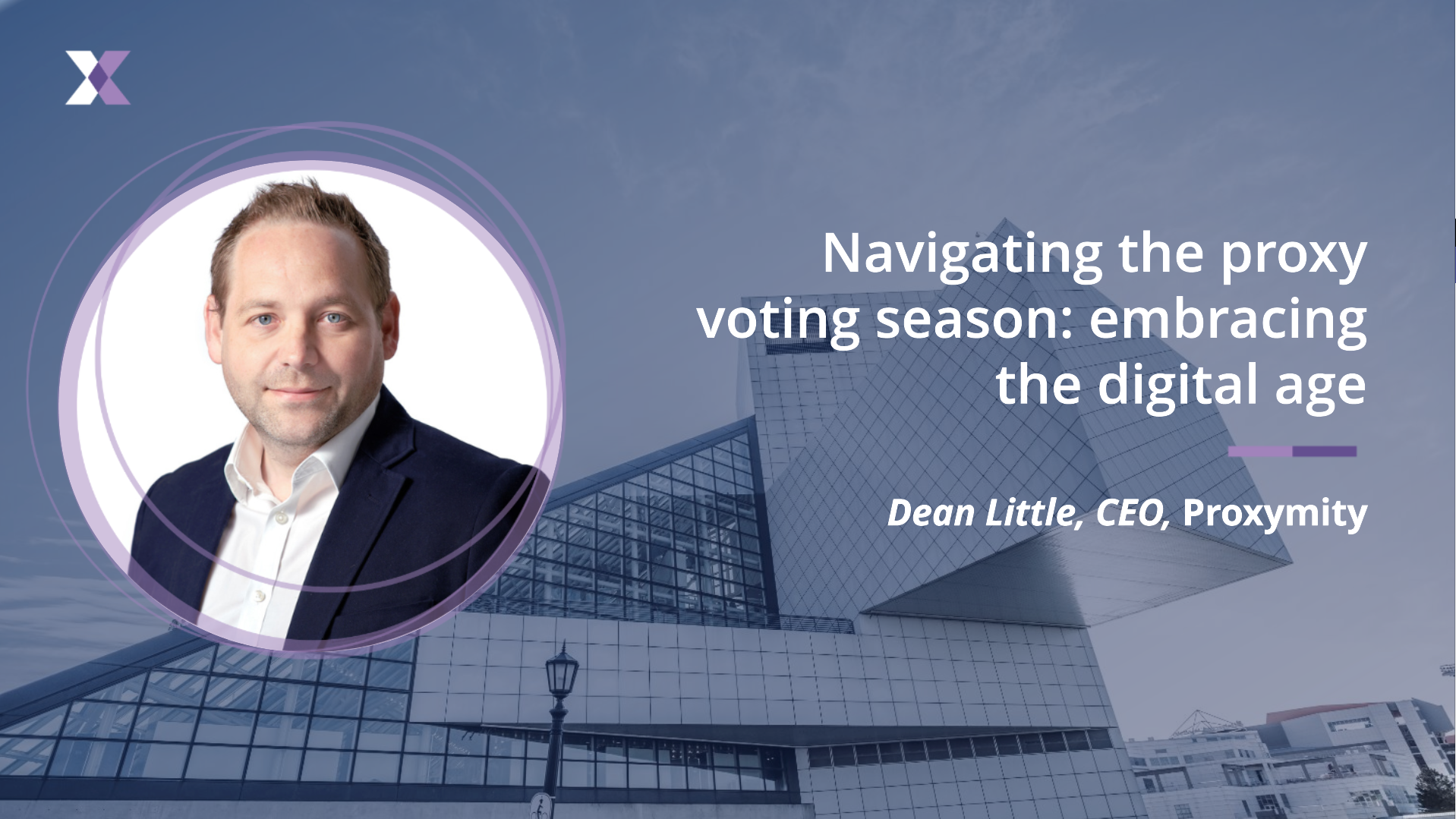 It's the season to embrace digital proxy voting solutions, says Proxymity's co-founder and CEO Dean Little. He explains why digital proxy voting technology can only enhance the connection between companies and their shareholders — particularly amid current economic turbulence.

As we approach the upcoming Annual General Meeting (AGM) season, shareholders are increasingly looking to influence the decisions of the companies in which they invest — ensuring their voices are heard on matters of corporate governance.
This presents an opportunity for companies to embrace digital proxy voting solutions, such as Proxymity Vote Connect, to enhance communication and foster timely collaboration with their shareholders.
By leveraging digital tools, firms can provide real-time confirmation of voting action, collect informed opinions from their shareholder base and promote long-term value creation through increased transparency and accountability.
Platforms such as Proxymity Vote Connect transform the traditionally manual proxy voting process into a seamless digital experience, allowing companies to take full control of investor communications and proxy voting procedures.
By offering a robust digital connection that facilitates the swift and accurate dissemination of meeting announcements in real-time, the platform allows companies to stay ahead of the curve in terms of investor engagement.
This is particularly valuable given the rapidly changing economic landscape and rise in shareholder activism.
ESG considerations in shareholder engagement
With growing awareness of the environmental and societal implications of boardroom decisions, investors will continue to demand ever-greater transparency and accountability this voting season.
As activist investors continue to push for companies to incorporate climate strategy into their corporate governance, it is evident that this trend will play a more prominent and lasting role on the agendas of AGMs. It will also necessitate a transformation in respective shareholder engagement strategies.
With more than 85 per cent of investors now considering ESG factors in their investment decisions, this upcoming proxy season will likely see shareholders proposing transformative resolutions, including requests to adopt and report on emission reduction targets and net zero transition plans. As the breadth of ESG risk exposure continues to increase, so too will the number of investors utilising proxy voting to navigate this terrain.
To truly empower both investor and issuer, a fast-moving, well- connected ecosystem capable of facilitating shareholder democracy must be in place. The limitations of traditional proxy voting channels are abundantly clear, with their disjointed nature proving both opaque and inaccurate.
Digitising this process, Proxymity's platform offers an end-to- end digital connection that connects issuers, investors and intermediaries throughout the investor relations (IR) ecosystem with reliable 'golden source' information and accurate reconciliation of shareholdings through the custody chain.
By facilitating a seamless two-way stream of communication, Proxymity provides investors and issuers with an opportunity to collaborate and navigate the rapidly evolving ESG landscape.
Effective communication amidst economic turbulence
Amidst warnings of a looming recession in 2023, shareholders are understandably concerned about the financial stability of the companies in which they invest. UK-listed companies have been hit particularly hard, with a 69 per cent increase in profit warnings year-on-year in the third quarter of 2022. As a result, investors are looking to company boards for reassurance.
Digital proxy voting technology can establish a robust and effective connection between companies and their shareholders, with platforms such as Proxymity's Vote Connect providing investors with advanced notification of issues, eliminating the need to wait for last-minute notices and offering near-instant confirmation of their ballot's casting and recording.
In addition to enhancing communication and accountability, digital proxy voting can also benefit investor disclosures. By providing real-time, accurate and transparent communication between issuers and investors, digital proxy voting platforms enable investors to easily access information about a company's initiatives and other important disclosures that impact investment decisions.
The future of shareholder democracy
The digital age has ushered in a new era of shareholder democracy where all shareholders, regardless of size, have access to regular information about company affairs and feel empowered to suggest directions of travel. This shift towards digital proxy voting and investor communication technologies enhances governance, ultimately resulting in healthier and more sustainable organisations.
With Proxymity providing direct benefits to issuers, investors and other players in the IR ecosystem, businesses can now unlock additional efficiencies and insights across markets globally. This includes 60 per cent of FTSE 100 companies, who have already adopted Proxymity's digital platform in the UK.
The 2023 voting season will likely see unprecedented levels of shareholder engagement, and companies, intermediaries and investors would do well to prepare.
This article was originally published by Asset Servicing Times.