Views
Proxymity's 2022 awards season shows no sign of slowing down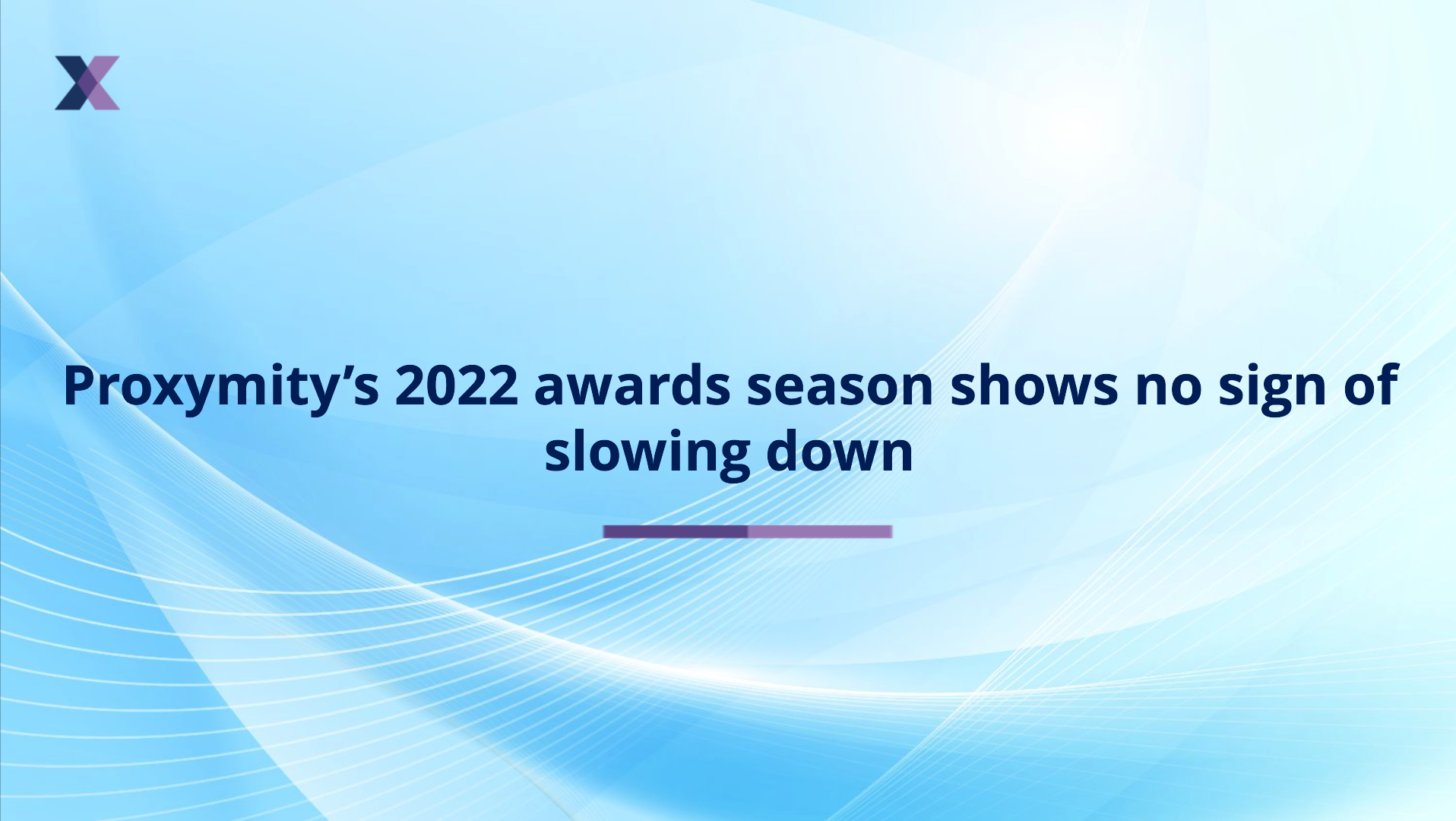 Riccardo Iore reflects on an outstanding 2022 for Proxymity
During 2022, Proxymity has been honoured to receive several awards from prestigious sources, all of which have been received in recognition of Proxymity as an innovator and disruptor, as well as our team's collective commitment to revolutionizing investor communications industry, by delivering transparent and accurate digital investor communications in our connected world.
In the first half of the Year Proximity received FSTech Award for "Most disruptive technology in the FinTech Sector", this was quickly followed by "FinTech of the Year", awarded by GC Magazine's "Leaders in Custody Awards in May 2022. AQT the same ceremony, there was also a nomination for Proxymity's CEO, Dean Little as "Industry Person of the Year".
These awards have helped Proxymity gain fantastic recognition, but the awards season hasn't ended. During the second half of 2022, the Proxymity awards season continued, this time in the APAC region with the cover of CIO Review Magazine dedicated to the Proxymity in recognition of us as the "Most Promising RegTech Solution Provider 2022".
The magazine also showcased an interview to our CEO and Co-founder Dean Little where Proxymity founders' story was retold and our expectations for the future were highlighted.
Back in the UK during the first week of October, Otta, the leading platform for matching jobs at tech companies with candidates by aggregating multiple sources of information about the company, included Proxymity in their "Rocket List 2022", a curated list of the 100 fastest-growing companies to accelerate the candidates' career.
One week later, Proxymity's shareholder identification solution, Proxymity Shareholder ID, is selected as "RegTech Platform Gold Winner" at this years' Future Digital Awards from Juniper Research. This awards programme recognises the most impactful financial products and services operating across numerous areas, including Banking, Fraud & Security, and Retail & Payments.
Still in October 2022, the recognition continues, only last week Proxymity was included in the "Investment Tech Startups 2022" list from Tracxn as "Top Investment Tech" in their "Emerging Award" series that recognises the topmost companies in investment tech from across the globe.
And now we're at Halloween and Fireworks, we're finding the season is still going strong!
As already shared on our social media channels, Proxymity was recently shortlisted as "Asset Servicing Regulatory Solution of the Year" for our Shareholder disclosure solution Proxymity Shareholder ID, and "Best Asset Servicing Technology Product" for our digital proxy voting solution Proxymity Vote connect at the Asset Servicing Times Industry Excellence Awards 2022.
Winners will be announced on 4 November 2022 at The Londoner Hotel, Leicester Square but pending the final verdict, we say thank you to #TeamProxymity for an outstanding award-winning year without the collaboration, team effort and unrelenting customer focus we show as a team to the world, we would not be in a position to collect these plaudits.
Thank you #TeamProxymity and fingers crossed for November 4th!