Clearstream and Proxymity to Launch Digital General Meeting Announcement Service in Germany and Luxembourg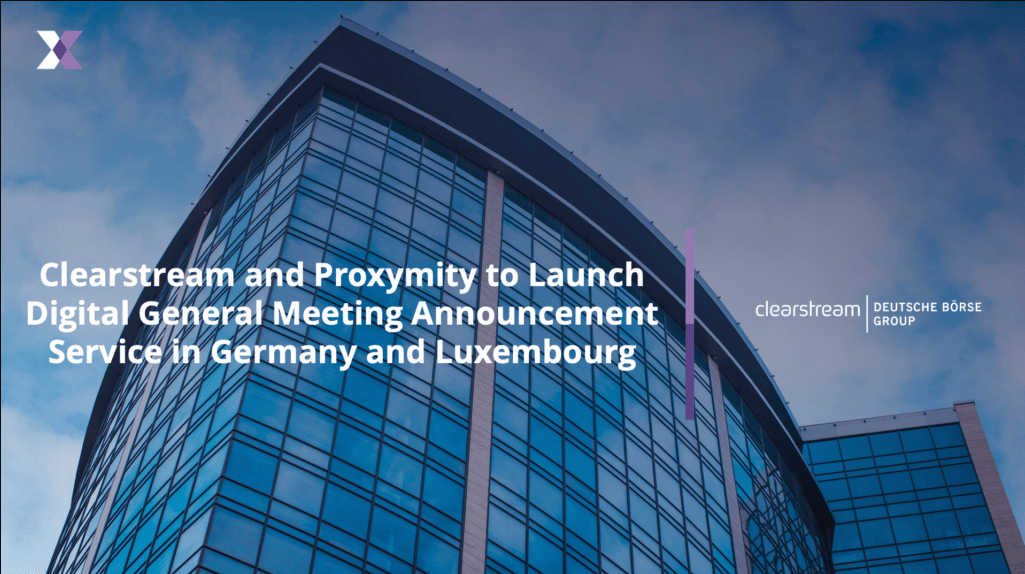 New one-stop shop corporate event announcement platform for issuers and issuer agents in Germany and Luxembourg to cover all asset classes
London, Luxembourg, Frankfurt 30 May 2023– Proxymity, the leading digital investor communication platform, and Clearstream, the post-trade business for global markets, have expanded their partnership to create a digital general meeting announcement solution.
Historically, communication between issuers and investors was initiated through multiple disparate sources and using different modalities, causing delays and a fragmented process for intermediaries and investors. With the new platform, Proxymity and Clearstream are looking to automate issuer investor communication to resolve these issues and facilitate better proxy voting and corporate event communications for all parties involved.
The central platform will enable issuers and their issuer agents to improve corporate event communications between intermediaries and investors by publishing "golden record" general meeting announcements directly to the Issuer CSD and onward to intermediaries and investors for a wide portfolio of financial instruments, including domestic equities, bonds, ETFs, investment funds, and Eurobonds (XS ISINs).
The service is planned to go live by the end of the year and will use Proxymity's Vote Connect, the flagship digital proxy service powered by Proxymity's investor communications platform.
Sam Riley, CEO of Clearstream Securities Services, commented, "At Clearstream, we are constantly striving for new and innovative services for our clients, making it easier for them to conduct their business smoothly and efficiently around the world. In expanding our partnership with Proxymity, we are delivering on this ambition once again, using digital technologies that are leading the way in compliance and best practice."
Dean Little, CEO of Proxymity, added, "We are thrilled to continue our partnership with Clearstream, further expanding our digital investor communication platform into the German and Luxembourg markets. This collaboration will revolutionise the way issuers communicate their corporate events, ensuring compliance and enhancing efficiency in the proxy voting process. We look forward to making a positive impact on these strategically important markets and continuing to drive innovation in issuer to investor communication."
About Proxymity
Adopted by over 65% of FTSE 100 companies, Proxymity connects the world's ecosystem of issuers, intermediaries, and investors digitally in real-time, bringing unprecedented transparency, efficiency, and accuracy to traditional paper-based processes. Trusted by the world's largest financial institutions, it is the leading digital investor communications platform, serving over twenty-five markets world-wide. Proxymity's ground-breaking technology has also been recognised industry-wide, with recent awards including FSTech's "Most Disruptive Technology in the FinTech Sector" and GC Magazine's "FinTech of the Year 2022".
Our solutions give public companies confidence that their AGM/EGM agendas are transmitted as "golden source" and provide institutional investors with the time to research and vote on corporate decisions, as well as actual digital confirmation that their votes have been received. The digital-native platform, built on highly scalable technology, provides full compliance with the latest regulations such as the Shareholder Rights Directive (SRD II).
Proxymity promotes enhanced environmental, social, and governance (ESG) by improving communication between issuers and investors while making it easier for intermediaries to provide efficient, timely and compliant client service.
The company is backed by a global consortium of the industry's most influential financial institutions, representing seven of the world's top ten Global Custodians managing over $200 trillion in assets under custody (BNP Paribas, BNY Mellon, Citi, Computershare, Deutsche Bank, Deutsche Börse, HSBC, J.P. Morgan, Mediant, State Street).
For more information, visit www.proxymity.io
About Clearstream
Clearstream is the innovative and trusted post-trade business for the global markets. It runs the leading securities and funds servicing ecosystems of tomorrow.
The company operates the German and Luxembourg central securities depositories and an international central securities depository for the Eurobonds market. With 17 trillion Euros in assets under custody, it is one of the world's largest settlement and custody firms for domestic and international securities.
It also delivers premier fund execution, distribution, data and reporting services, covering over 50 fund markets worldwide.
Clearstream is part of Deutsche Börse Group, an international exchange organisation and provider of innovative market infrastructures. To learn more, visit us at www.clearstream.com or connect via LinkedIn.
Media Contacts
Proxymity media contacts: Richard Morgan Evans: rmorganevans@sapiencecomms.co.uk
Sergio Cortes Allsopp: scortesallsopp@sapiencecomms.co.uk
Clearstream media contact: Tabea Behr: tabea.behr@deutsche-boerse.com