DNB and Proxymity Launch SRD II Compliant Shareholder Identification Service in Norway on First Day New Legislation Takes Effect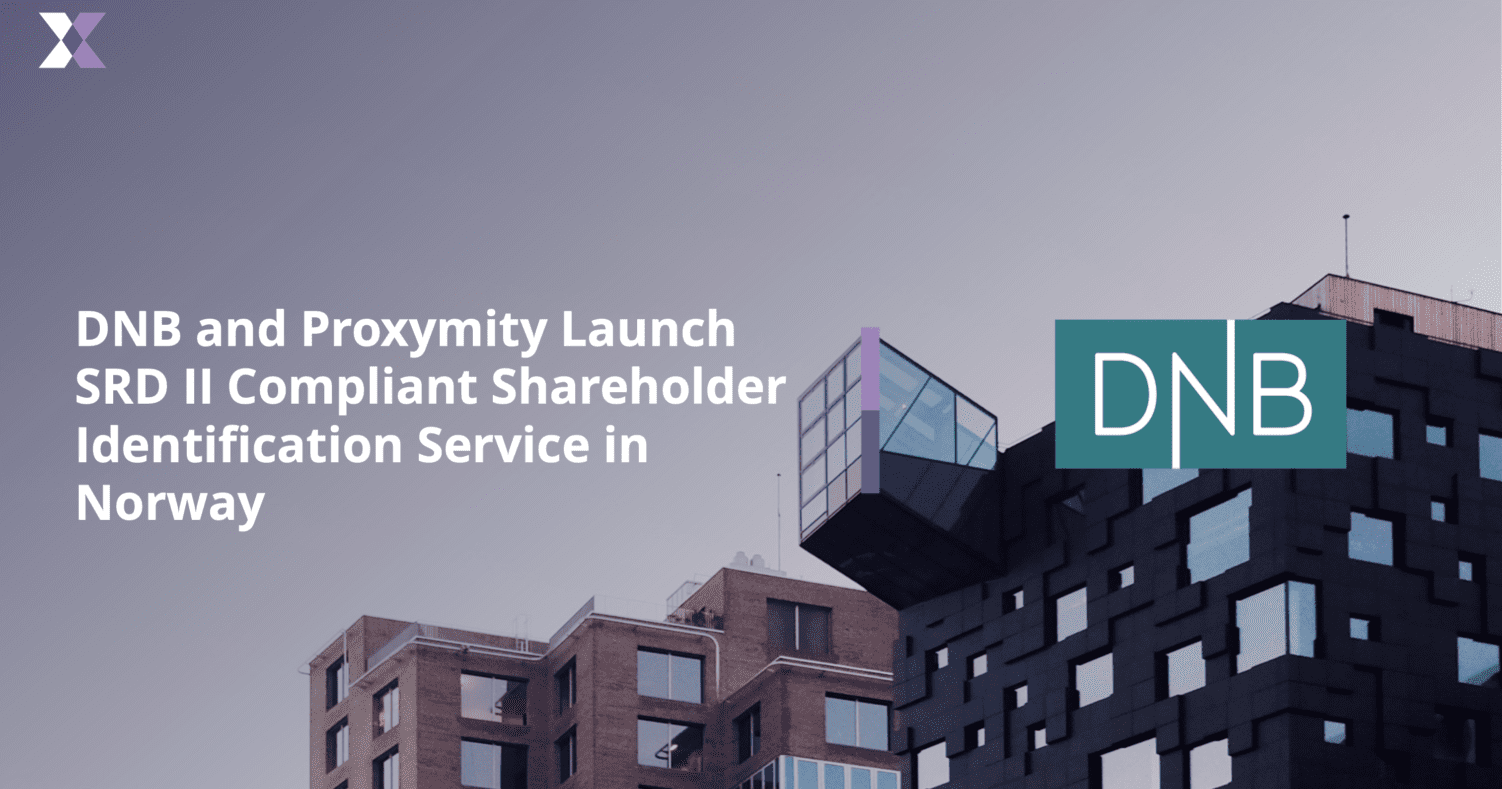 London/Oslo, July 1 2023 – DNB, Norway's foremost financial services group, and Proxymity, the leading digital investor communications platform, have announced a strategic partnership to introduce Proxymity's Shareholder Insights service in the Norwegian market, on the first day that the Shareholder Rights Directive II (SRD II) comes into effect.
The Shareholder Insights service provided by Proxymity presents a transformative approach to compliant shareholder identification, effectively eliminating the operational and technological burdens typically associated with such processes. This service offers an unrivalled level of connectivity between Central Securities Depositories (CSDs), issuers, intermediaries, and account operators, streamlining communication and promoting transparency in the process.
In partnering with Proxymity, DNB underscores its commitment to leveraging advanced technologies to meet evolving regulatory requirements and deliver efficient, innovative services to its clients. Through this partnership, DNB is able to offer Proxymity's Shareholder Insights service to their issuer clients, acting as an Account Operator and ensuring compliance with the newly implemented EU regulations.
This service has undergone meticulous testing and evaluation over the past few months and is now live, coinciding with the enactment of the SRD II law in Norway.
The partnership between DNB and Proxymity signals a significant advancement in investor communication, serving as an exemplar of regulatory compliance in the rapidly evolving financial services industry.
Dean Little, CEO of Proxymity, reflected on the strategic alliance, "Our collaboration with DNB represents a significant milestone for Proxymity. Together, we are not only enhancing transparency in shareholder communications, but also promoting technological innovation that aligns with emerging regulatory demands. As SRD II takes effect in Norway, our shared vision for efficient and compliant shareholder disclosures is now a reality."
Echoing the sentiment, Nicolai Christensen, Senior Vice President, DNB Markets Securities Services, said, "At DNB, we are relentlessly focused on providing our clients with innovative, client-centric solutions. The introduction of Proxymity's Shareholder Disclosure service underpins our commitment to digital innovation and regulatory compliance. This robust solution will fundamentally transform our clients' interactions with shareholders."
About Proxymity
Adopted by over 65% of FTSE 100 companies, Proxymity connects the world's ecosystem of issuers, intermediaries, and investors digitally in real time, bringing unprecedented transparency, efficiency, and accuracy to traditional paper-based processes. Trusted by the world's largest financial institutions, it is the leading digital investor communications platform, serving over twenty-five markets world-wide. Proxymity's ground-breaking technology has also been recognised industry-wide, with recent awards including FSTech's "Most Disruptive Technology in the FinTech Sector" and GC Magazine's "FinTech of the Year 2022".
Our solutions give public companies confidence that their AGM/EGM agendas are transmitted as "golden source" and provide institutional investors with the time to research and vote on corporate decisions, as well as actual digital confirmation that their votes have been received. The digital-native platform, built on highly scalable technology, provides full compliance with the latest regulations such as the Shareholder Rights Directive (SRD II).
Proxymity promotes enhanced environmental, social, and governance (ESG) by improving communication between issuers and investors while making it easier for intermediaries to provide efficient, timely and compliant client service.
The company is backed by a global consortium of the industry's most influential financial institutions, representing seven of the world's top ten Global Custodians managing over $200 trillion in assets under custody (BNP Paribas, BNY Mellon, Citi, Computershare, Deutsche Bank, Deutsche Börse, HSBC, J.P. Morgan, Mediant, State Street).
For more information, visit www.proxymity.io 
About DNB
DNB, together with its subsidiaries and affiliated entities, is a global corporate and investment bank headquartered in Oslo, Norway, with $300 billion in combined assets. DNB is Norway's largest financial institution, with international expertise in corporate banking and public capital markets across selected industry verticals. DNB's global presence spans across 17 countries and 10 000 employees.
The Group is recognised for its financial product breadth across corporate, investment and retail banking, offering a full range of financial services, including loans, savings, advisory services, insurance and pension products for retail and corporate customers. 
DNB is a major operator in a number of industries, for which it has a Nordic or international footprint. DNB is one of the world's leading shipping banks and has a strong position in the energy sector and seafood industry.
DNB Markets is DNB's Capital Markets and Investment Banking arm, offering a wide range of products and services, including risk management and investment products, capital markets/advisory and securities services. DNB Markets has a local market leadership in the Nordics with a strong international platform, bridging the Nordic and global financial markets. It provides end-to-end service offering, industry expertise and research across sectors and geographies. DNB Markets has 800 employees with global reach through presence in Stockholm, London, New York and Singapore.
For more information, visit About the Group – DNB
Media contacts
Proxymity media contacts:
– Richard Morgan Evans: rmorganevans@sapiencecomms.co.uk
– Sergio Cortes Allsopp: scortesallsopp@sapiencecomms.co.ok 
DNB media contact:
– Lukas Loeb: lukas.loeb@dnb.no