South Africa Issuers and Investors Gain Access to End-To-End Digital Investor Communications in Market First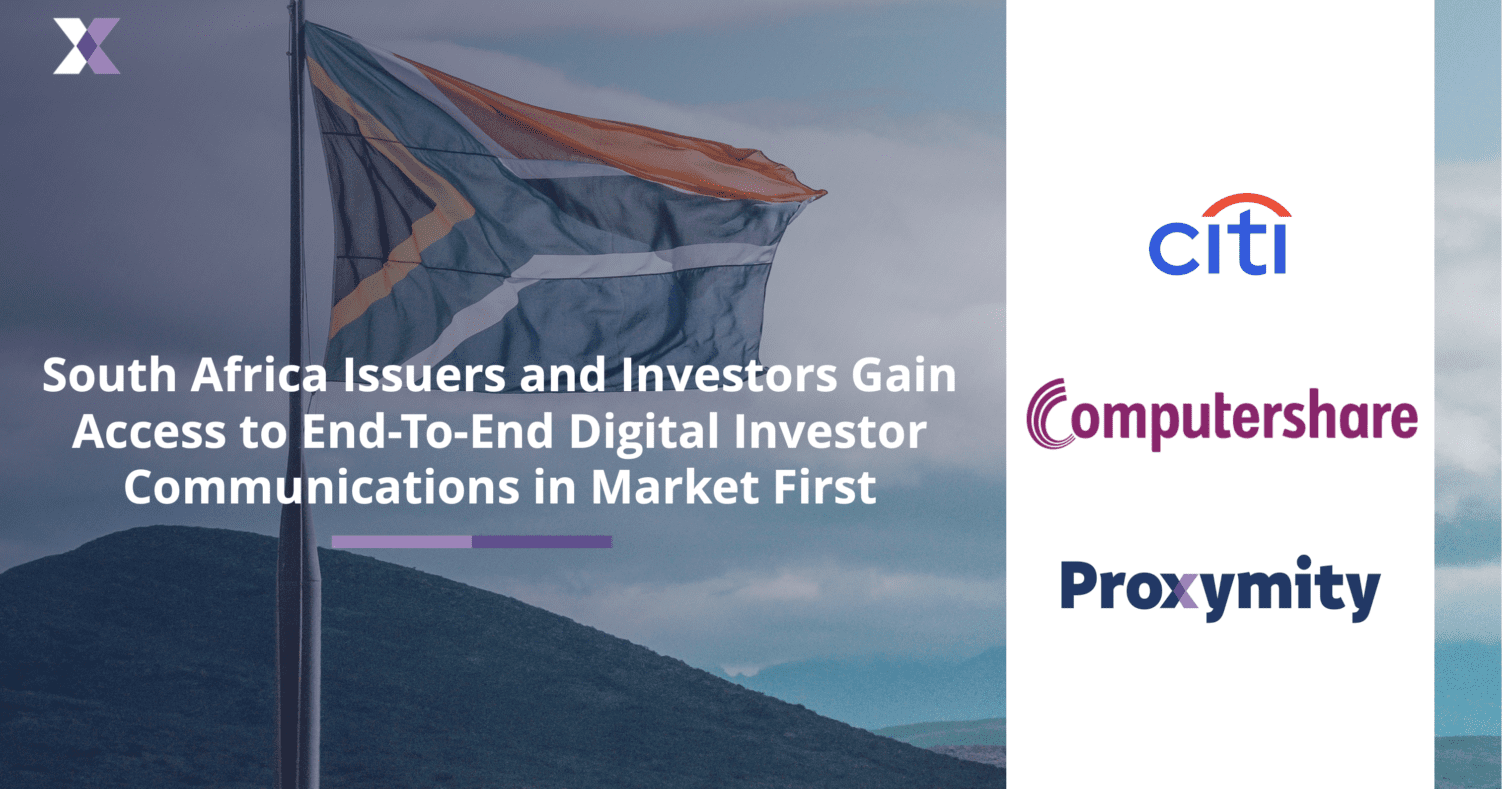 LONDON, August 11, 2023 – Proxymity, the leading digital investor communications platform, announced today the successful go-live of its digital proxy voting service, Proxymity Vote Connect, in South Africa. In collaboration with Computershare and Citi, Proxymity now provides the South African market with the unprecedented ability to leverage golden source data, delivering investor communications in real time and error free, throughout the entire chain of ownership. This proven technology has already been adopted in several markets. In the UK, over 65% of FTSE 100 are connected to Proxymity and are benefiting from improved connections with their investors.
The introduction of digital end-to-end institutional investor communications is a first in the South African market, facilitating global connectivity both into and out of the country for international issuers and investors alike. Proxymity Vote Connect Total was conceived in response to the increasing demand from issuers, intermediaries and investors for heightened transparency and improved engagement. The platform offers a direct connection between all parties, enhancing transparency and efficiency across the board.
The benefits for all connected parties are substantial. Issuers can now take control of the notification received by their investors, receive votes earlier and engage with investors more efficiently. Shareholders can take advantage of having more time to research, can cast votes up until market deadline and receive confirmation that their vote was cast at the meeting.
Clients of Citi and Computershare in South Africa can now harness the power of Proxymity's digital platform. The improved communication platform will enable them to address the shortcomings of traditional, often paper-file or excel-file based, voting channels both globally and in South Africa.
The use of Proxymity Vote Connect Total can help companies adopt global best stewardship practices, including compliance standards and direct connections to global libraries and Institutional Shareholder Services, fostering trust and confidence within the investment community
Dean Little, Co-Founder and CEO, Proxymity, said: "We are pleased to be able to translate our long-standing and global collaborations with Computershare and Citi to the South African market. Investors and issuers alike will benefit from our tested and trusted technology, which will provide unrivalled transparency while stimulating investment in the country. Launching Proxymity Vote Connect Total in this market is a significant step in our mission to reinvent investor communications globally."
Masha Maharaj, Citi Securities Services Head: Sub Sahara Africa: "The extension of the Proxymity into South Africa is an example of Citi's continued efforts to leverage innovation to improve client experience. The collaboration with Proxymity and Computershare enables our South African clients to benefit from a more streamlined and transparent digital investor experience."
Bennie van der Westhuizen, CEO Computershare ZA: "The use of data and market intelligence in investor relations can help issuers create effective shareholder engagement strategies that reach as many holders as possible. Proxymity and Computershare's connectivity service enables investors to begin submitting real-time voting instructions to Computershare by more than a week before an AGM takes place, enabling issuers to facilitate more meaningful conversations between their shareholders, investor relations teams and boards, increasing shareholder input and improving governance."